White Magic Packages
A snowmobiling, dog sledding and winter activity stay.
From January 8th to March 18th 2023

The package includes
4 days / 3 nights (double occupation)
One day of snowmobiling
160 km snowmobiling trails including gas
Complete accommodations and meals (2 breakfast, 2 lunches and 2 dinners) during your stay
1 day of dog sledding
One day of snowshoeing and ice fishing
Visit of the Upper Laurentians
• All the services offered at Mekoos Outfitters, 5-star inn :

Outdoor hot tub
Sauna
Nordic Bath
Game room
Pool table
Foosball
Day 1
Arrival at the Mekoos Outfitters
On arrival at the Mekoos, Sebastien, the owner, will greet you with a welcoming cocktail and all the friendliness allowed during this pandemic.
It is important to mention that even we are going through difficult times concerning the pandemic, the staff at Mekoos Outfitters will still welcome you in their usual friendly and smiling nature. Once you are comfortably installed in you room, you will be able to bask in the comfort of the Grands Froids equipment that will be yours for the length of your stay.
After checking into your room and making yourself at home, you can enjoy a fabulous 4 course meal prepared in our restaurant by Chef David. To finish your day, you can comfortably sit by the fireplace or the bar enjoying a nightcap, or for a game of pool. It is your vacation, so the choice is yours!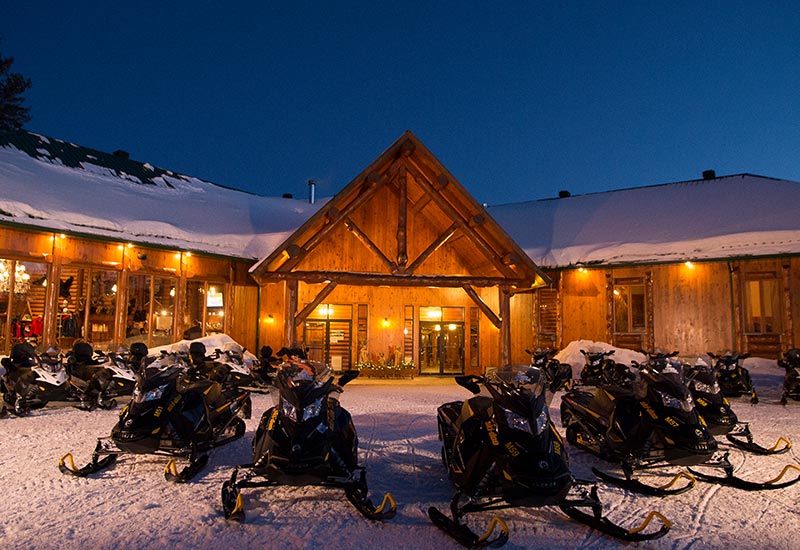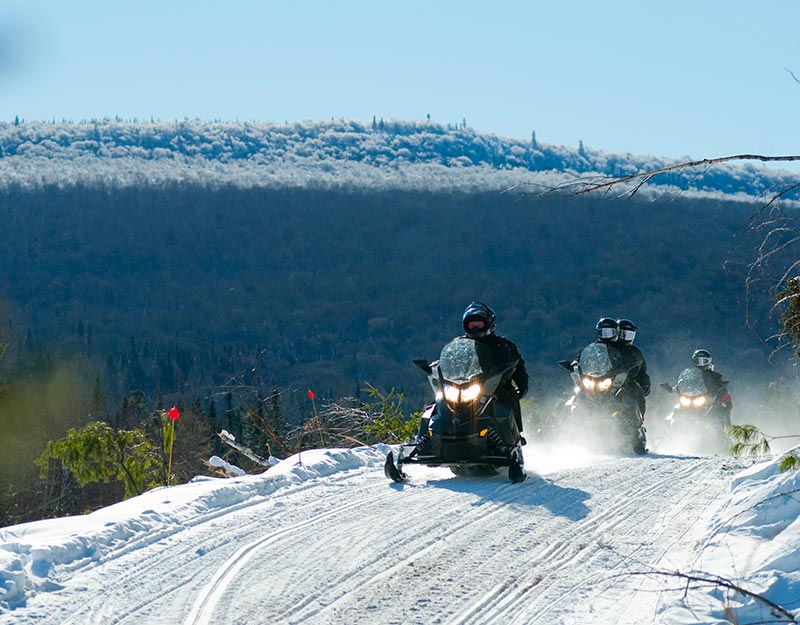 Day 2
Snowmobiling to visit deer wintering grounds and the Kiamika Reservoir (160 km)
Anticipating the exciting day ahead, you will get up, get dressed, and have a great breakfast while trying to contain your excitement! Today, a trip towards the South to come back from the North! The trails are ready for you! You will never have experienced something quite like this: the beauty of the largest frozen expanse of water; the Kiamika Reservoir. The snowmobile trails pass on the Reservoir for 18 km long with a width of 5 km. Everything is in place for amazing driving sensations and thrills! The ice and snow have taken hold of nature to offer you a pure and invigorating show. Be assured, all safety precautions have been taken to offer you security during this activity.The fauna is an integral part of Quebec. On your way back to the Mekoos, you will pass Chute-Saint-Philippe to contemplate the largest deer wintering grounds in the area. You will then go towards Chute-Saint-Philippe before heading back to the Mekoos. You can enjoy a great meal at the Mekoos followed by a night in your chalet.
Day 3
Dog-sledding Expedition
A once in a lifetime experience! You will be in charge of your sled with only three commands to give, "djee" to turn right, "yap" to turn left and "en avant!" to encourage your dogs.
A noble activity where man and dog work in symbiosis, and become partners. During this outing, you will have the chance to live like a coureur des bois (woodsman) like in the days of trapping. You will dine in a refuge in the middle of nowhere. If words could describe such a day, they would most certainly be "back to basics". When the sun will start to set, you and your pack will return using the frozen lake in front of the Mekoos. The illuminated chalets will greet you with all their warmth in a fairy-tale like setting.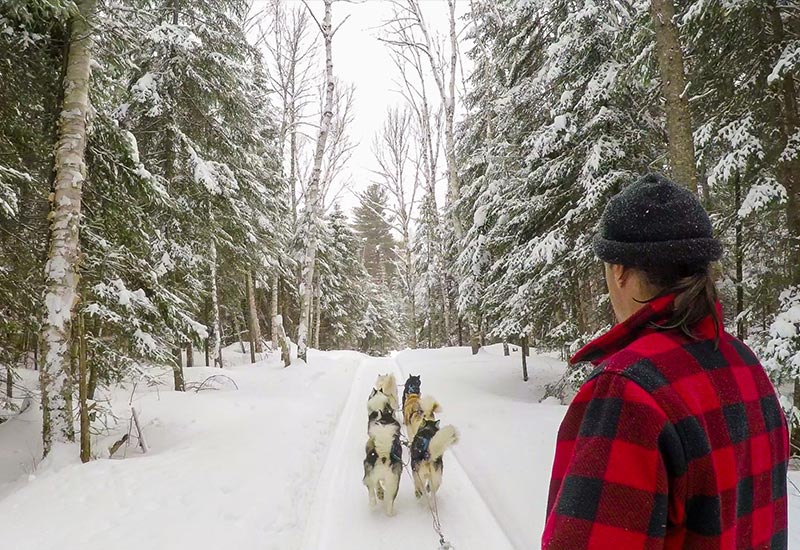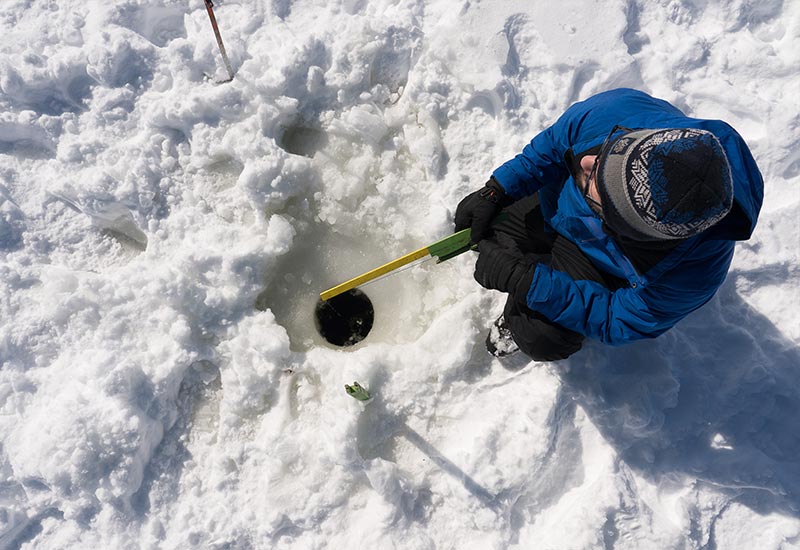 Day 4
Snowshoeing and ice fishing
After a hearty breakfast, you will take off on your snowshoes with our trapper in the beautiful forest surrounding us. He will teach you the trapping basics. Trapping is still practised across Quebec, but its popularity is decreasing. It allows to regulate the fauna in a precise territory. This activity will be followed by going for a nice lunch back at the Outfitters.
In the afternoon, your guide will explain and instruct you on how to drill holes in the ice for an ice fishing experience. All that is needed is you and your fishing dandles. You will tease the speckled trout and if you are lucky, you will be able to enjoy it the same evening at the inn. Returning to the Mekoos also marks the end of your stay with us.
Starting from
1345$/person
+ Taxes
Number of nights
4 days, 3 nights
Departure dates 2024
January
Monday, January 8th, 2024
Monday, January 15th, 2024
Monday, January 22nd, 2024
Monday, January 29th, 2024
February
Monday, February 5th, 2024
Monday, February 12th, 2024
Monday, February 19th, 2024
Monday, February 26th, 2024
March
Monday, March 4th, 2024
Monday, March 11th, 2024
Monday, March 18th, 2024
Options
Supplement for private groups :
Groups of 5 people with a guide = 50$ plus taxes per person
Groups of 4 people with a guide = 80$ plus taxes per person
Groups of 3 people with a guide = 120$ plus taxes per person
Groups of 2 people with a guide = 220$ plus taxes per person
Rates
Group of 6 persons and more
1 345 $ + taxes par personne
(2 people per snowmobile and two people per room)
1 465 $ + taxes par personne
(1 person per snowmobile and two people per room)
Group of 5 persons
1 390 $ + taxes par personne
(2 people per snowmobile and two people per room)
1 550 $ + taxes par personne
(1 person per snowmobile and two people per room)
Group of 4 persons
1 450 $ + taxes per person
(2 people per snowmobile and two people per room)
1 595 $ + taxes per person
(1 person per snowmobile and two people per room)
Group of 3 persons
1 490 $ + taxes per person
(2 people per snowmobile and two people per room)
1 650 $ + taxes per person
(1 person per snowmobile and two people per room)
Group of 2 persons
1 590 $ + taxes per person
(2 people per snowmobile and two people per room)
1 695 $ + taxes per person
(1 person per snowmobile and two people per room)
+270 $ + plus taxes per person for an individual room (extra)