Nordic Safari Package
A snowmobiling, dog sledding and winter activity stay.
Available form January 8th to March 18th 2024

The package includes
4 days/ 3 nights (double occupation)
Two days of snowmobiling
340 km snowmobiling trails including gas
Complete accommodations and meals (2 breakfast, 2 lunches and 2 dinners) during your stay
1 day of dogsledding
Visit of the Upper Laurentians
All the services and accommodations offered at Mekoos Outfitters 5 Star Lodge :

Outdoor hot tub
Sauna
Nordic Bath
Game room
Pool table
Foosball
Day 1
Arrival at the Mekoos Outfitters
On arrival at the Mekoos, Sebastien, the owner, will greet you with a welcoming cocktail and all the friendliness allowed during this pandemic.
It is important to mention that even we are going through difficult times concerning the pandemic, the staff at Mekoos Outfitters will still welcome you in their usual friendly and smiling way. Once you are comfortably installed in your room, you will be able to bask in the comfort of the Grands Froids equipment that will be yours for the length of your stay.
After checking into your room and making yourself at home, you can enjoy a fabulous 4 course meal prepared in our restaurant by Chef David. To finish your day, you can comfortably sit by the fireplace or the bar enjoying a nightcap, or for a game of pool. It is your vacation, so the choice is yours!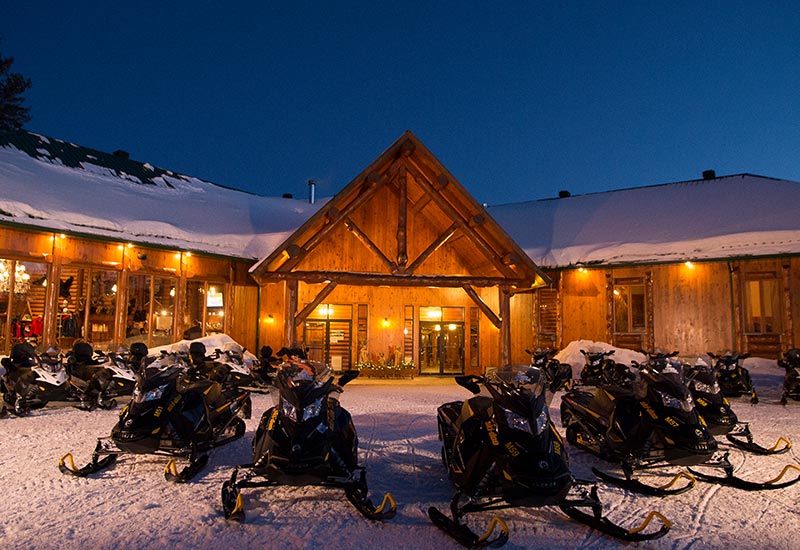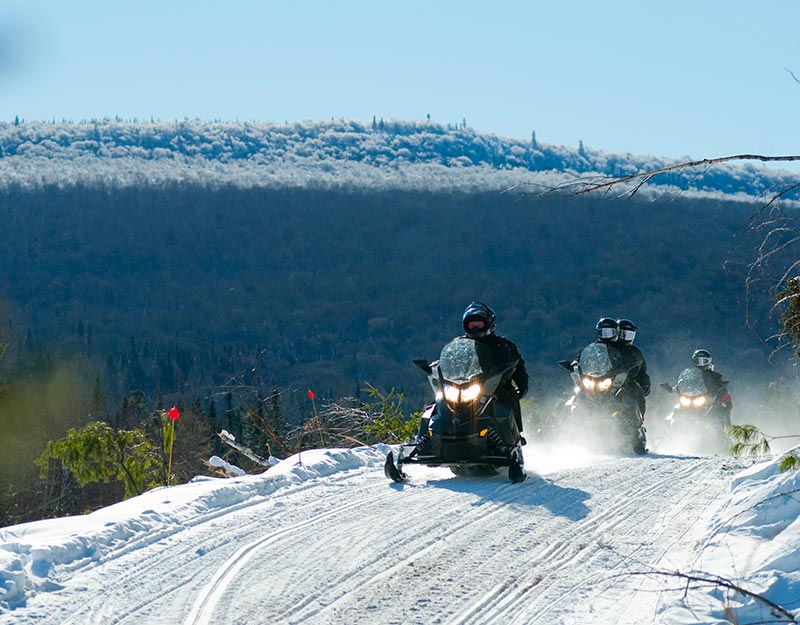 Day 2
Snowmobiling from the Mekoos to Notawissi outfitter (185 Km)
Impatient to start this day, you get up, get dressed and have lunch in the general excitement. Today, direction South and then North! Let's go! Nowhere else will you find a bigger frozen area. You had never seen that, it is the Kiamika reservoir. The trail passes over the reservoir which is 18 km long and 5 km wide. Enough to to enjoy the thrill of driving and of wonder. Ice and snow have taken over of nature to offer you a pure and invigorating spectacle. Rest assured, we are taking all the necessary precautions to ensure a necessary to ensure a safe environment for this activity. for the practice of this activity. Wildlife is an integral part integral part of the Quebec universe. This is how you will to Chute-Saint-Philippe to contemplate the largest the biggest deer ravage in the region. After so many emotions, we head for the restaurant in Saint-Anne-du-Lac passing by Gravel Lake where you will be able to admire a second where you can admire a second white-tailed deer stand. After lunch, you will lunch, you start again to go to the Notawissi Outfitter Notawissi Outfitter which is located on the magnificent Notawissi Lake, which is where you will spend the night. Once you arrive at Notawissi you will settle in your cottage, return to the to the Notawissi lodge for a good wild meat fondue. meat. You will spend a very nice evening.
Day 3
Snowmobiling from the Rabaska to the Mekoos (160 km)
You will leave Dominque and Martin to head off to join the Dumoulin Family. One good thing leads to another, and your trip wouldn't be complete without stopping at the majestic Montagne du Diable.
You will reach the peak of the mountain by snowmobile. On the mountain peak, you will turn off your engine and enjoy the silence surrounding you, it is utopian. The landscape will leave you breathless; it is the place to take advantage of Canada's nature and space. After this visit, you will head towards the spectacular Windigo Falls. These falls are never frozen and are a must-see. In the summer, the inhabitants of Ferme-Neuve use them as natural waterslides.
You will continue to your destination towards Ferme-Neuve to have a lunch break and return to the Mekoos where a nice supper and evening await you. Don't forget your camera to capture all your moments.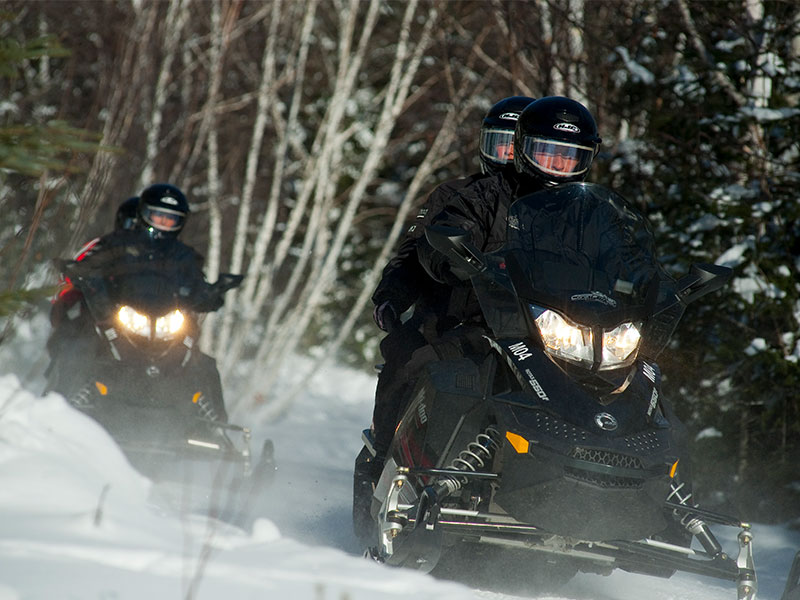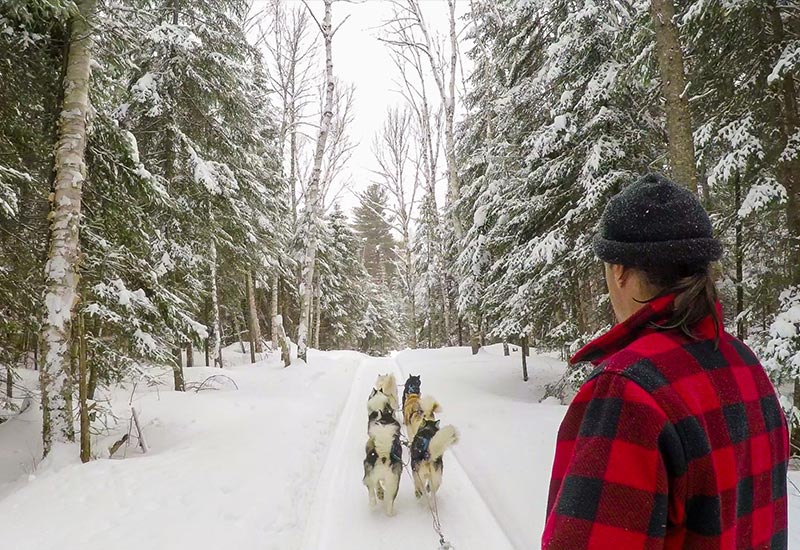 Day 4
Dog-sledding Expedition
A once in a lifetime experience! You will be in charge of your sled with only three commands to give, "djee" to turn right, "yap" to turn left and "en avant!" to encourage your dogs.
A noble activity where man and dog work in symbiosis and become partners. During this outing, you will have the chance to live like a coureur des bois (woodsman) like in the days of trapping. You will dine in a refuge in the middle of nowhere. If words could describe such a day, they would most certainly be "back to basics".
When the sun will start to set you and your pack will return using the frozen lake in front of the Mekoos. The illuminated chalets will greet you with all their warmth in a fairy-tale like setting. Returning to the Mekoos also marks the end of your stay with us.
Starting from
1435$/person
+ Taxes
Nomber of nights
4 days, 3 nights
Departure dates 2024
January
Monday, January 8th, 2024
Monday, January 15th, 2024
Monday, January 22nd, 2024
Monday, January 29th, 2024
February
Monday, February 5th, 2024
Monday, February 12th, 2024
Monday, February 19th, 2024
Monday, February 26th, 2024
March
Monday, March 4th, 2024
Monday, March 11th, 2024
Monday, March 18th, 2024
Options
Supplement for private groups :
Groups of 5 people with a guide = 40$ plus taxes per person
Groups of 4 people with a guide = 80$ plus taxes per person
Groups of 3 people with a guide = 150$ plus taxes per person
Groups of 2 people with a guide = 250$ plus taxes per person
Rates
Group of 6 persons and more
1 435 $ + taxes par personne
(2 people per snowmobile and two people per room)
1 695 $ + taxes par personne
(1 person per snowmobile and two people per room)
Group of 5 persons
1 475 $ + taxes par personne
(2 people per snowmobile and two people per room)
1 730 $ + taxes par personne
(1 person per snowmobile and two people per room)
Group of 4 persons
1 520 $ + taxes per person
(2 people per snowmobile and two people per room)
1 780 $ + taxes per person
(1 person per snowmobile and two people per room)
Group of 3 persons
1 595 $ + taxes per person
(2 people per snowmobile and two people per room)
1 870 $ + taxes per person
(1 person per snowmobile and two people per room)
Group of 2 persons
1 770 $ + taxes per person
(2 people per snowmobile and two people per room)
2 025 $ + taxes per person
(1 person per snowmobile and two people per room)
+270 $ + plus taxes per person for an individual room (extra)